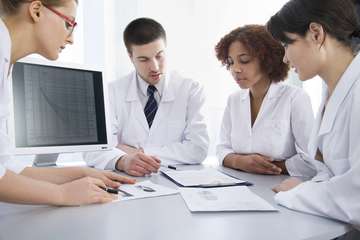 Division of Clinical Research
Nicholas Giordano, Clinical Research Program Manager, Emergency Medicine
The relationship between a PI and researcher is one of mutual dependence. This course is designed to guide clinical researchers into an efficient, productive, and healthy relationship with their PI. We will dive into what it means to manage up, discuss some of the different modalities of communication, and talk about techniques to quickly foster a positive working relationship with your PI.
Programs:

Sponsor: MGH Division of Clinical Research
Sessions
Sept. 25, 2018
12

PM

– 1

PM

Garrod/Mendel, Floor 2, Simches Research Center
Reviews
Anonymous: Nicholas is an excellent presenter. The skills that he presented can be used for working with other individuals and not just PIs.
Date Reviewed: Sept. 25, 2018, 3:24 p.m.
Anonymous: Such a great class, Nick is very knowledgeable about this topic and did a great job taking us through a crash course. I especially appreciated the handouts and the suggestions for further readings for those who would like to know more!
Date Reviewed: Sept. 25, 2018, 2:29 p.m.
Brianna R: Nick was a very good presenter however I think we could have gone into more depth.
Date Attended: Sept. 25, 2018, 11:54 a.m.
Date Reviewed: Sept. 25, 2018, 1:44 p.m.
Anonymous: The presenter was fantastic - ideas were presented well with concrete examples. In addition, the checklist that was handed out as a supplement facilitates and drives home everything that was covered in the presentation. I look forward to more courses on this topic.
Date Reviewed: Sept. 25, 2018, 1:39 p.m.
Anonymous: While the information is useful, I believe that this session is better suited for novice CRC's and particularly those working under one PI. It would be helpful to have more guidance on the target audience. Also, it is beneficial to have advanced notice of building access limitations.
Date Reviewed: Sept. 25, 2018, 1:18 p.m.
Anonymous: I think the course was helpful to start getting in the mindset of "Managing Up." Nicholas Giordano was a very strong presenter - He was able to present these ideas concisely, clearly, and in a way that can be easily replicated and applied to our individual roles. I also appreciated the checklist hand-out. This course made me look forward to signing up for the "Effective Communication" course. Many thanks
Date Reviewed: Sept. 25, 2018, 1:07 p.m.